Red Onion Marketplace Celebrates 1st Anniversary and Plans Friday Night | Local News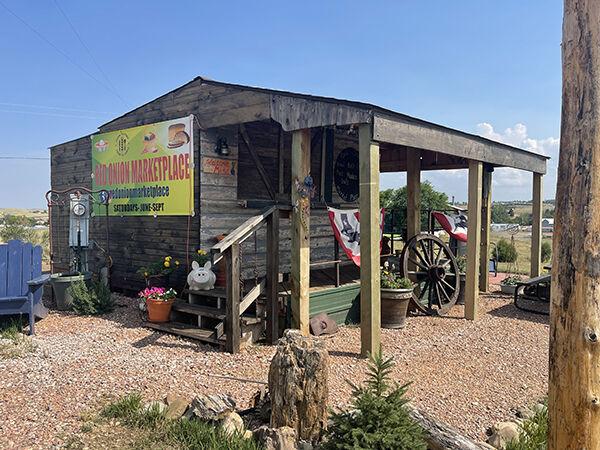 BELLE FOURCHE –– A couple from Belle Fourche combined a passion for culture and baking with a longtime dream, shaping the Red Onion Marketplace, a weekly roadside market offering fresh produce and home-cooked food every day. Saturdays.
"I thought it would be so amazing to bring a little, little version of a Whole Foods store to our town," said Robin Ager, one of the owners of the market.
From 9 a.m. to 1 p.m. every Saturday from June to September, and out of season, by special order for pickup or delivery on the porch side, Robin, who operates the market with her husband James Ager, offers a range of fresh produce and products from bakery for locals and passers-by.
Robin also works as a real estate agent and James is employed at the Northern Hills Training Center and is the Butte County Commissioner. July 11 marked the first anniversary of the market.
The market was an original idea and a long-held dream of Robin.
"I've been dreaming about it for over 15 years," she says. "Just wanting to bring fresh produce and that sort of thing to Belle Fourche. "
And combining that with her love of baking was a natural arrangement for Robin.
"My grandmother taught me how to bake pies when I was a young girl," she said. "And so I thought, 'That would be a great combination. ""
The eventual slogan the couple decided on, Robin said, was "eat healthy and celebrate life."
The products are locally sourced and the baked goods are made from scratch. In addition to Robin's homemade baking, she said her mother and stepmother help provide some of the baked goods sold in the market every Saturday.
Located on top of a hill, the Red Onion Marketplace is located just off US Highway 34, a short distance east of Runnings in Belle Fourche.
Robin estimated that around 95% of the building materials in the market were recycled or reused to some extent, including materials from a handful of older buildings spread across Belle Fourche and Butte County.
The market counter was salvaged from the old Penguin Drive-in, which Robin guessed closed in the 2000s.
In the 1980s, Robin was working at the drive-through. The old counter still has vestiges of the heyday of the drive-in, featuring hundreds of names that were labeled on the structure, including a tribute to the couple's early days, which reads: "Robin Loves James" . When the building was demolished, Robin said James couldn't let the story die with the building. The couple started dating in 1985.
"And so James went to save him," she said.
The base of the eight-by-13-foot building was built around a one-ton pickup truck bed from the 1950s-1960s.
"My dad… found this truck bed and he said, 'That would make a big shed or something,'" said James. "We thought, 'Well, wait a minute'. I put up the walls (of the market)… (and) we moved them here on skates, and then everything that I built around that.
The pair also intend to expand the market over time.
"Our goal is to one day build a bigger and more permanent market," said James. "We want to showcase items like breads, desserts (made from scratch by Robin) local produce and other produce, coffees and many other items," James said. "Our goal is to one day build a bigger and more permanent market. "
And just down the hill from the market, James is building a greenhouse to grow produce for market sales. He said it's a soil-to-air heat transfer method greenhouse. The system allows the greenhouse to provide its own heating and cooling using energy from the sun and the soil underground.
James said the system enables a year-round renewable climate control system that heats and cools the greenhouse at both a fraction of the cost and environmental impact of a traditional HVAC system.
"We just poured out the walls and things," he said, adding that he hopes the greenhouse will be built by fall to start production next spring. "We will be growing vegetables and fruit there, I hope, all year round."
Currently, part of the market's produce is grown on site in a garden. However, due to environmental hazards such as grasshoppers, Robin said they supplement the market supply with food grown by a local friend.
One of their favorite things to do, Robin said, is making special and unexpected deliveries.
"Every Tuesday, (we) make a dozen caramel rolls and either I ask people to designate where I need to deliver these caramel rolls or I randomly go out and deliver these caramel rolls," she said. declared. "It was really fun."
And Robin soon discovered that these unexpected surprises meant more to recipients than she thought.
"I'm going to get phone calls (from) people who are in tears because it was like a breaking moment for them, (and) here's that heartwarming meal or something," she said. "I thought it was cute."
The first summer the market was opened, Robin said the community was receptive and seemed excited about the weekly pickup market. And that excitement hasn't faded.
"I think they're still excited," she said. "I started (this summer) thinking, 'I hope they're still excited this year. "I think they were very excited.
To underscore that sentiment, Robin said there had been times when she would sell all of her merchandise after just two hours, leaving half of the day's planned sale with nothing more to offer customers than conversation.
"So people know to come early," she laughed.
Although the couple had dreamed of red onion for many years, James said he felt the area lacked the kind of local offerings as well.
"I think the area really wanted some sort of roadside market," he said.
The couple are busy getting ready for a bigger night – Onion Night. Robin said she was working on pie fillings and more ahead of the event, scheduled for 6 p.m. to 9 p.m. on Friday.
"Today I made pie fillings for 17 pies," Robin told the Pioneer Thursday.
In addition to the typical red onion offerings, visitors can expect a number of vendors and local produce, as well as music from Rick McBride and Jeremy & Amanda Sampson.
"I love to help showcase small businesses," Robin said of the upcoming opportunity. "We thought an evening would be fun just for a place where people get together."
Among the festivities, Robin said Connection Church plans to serve hot dogs and burgers for donations to the South Dakota Kids Belong charity, Torch Creamery should serve their homemade ice cream, and the Agers' grandchildren should. serve lemonade and iced tea. .
"And then we'll have a few other vendors – Crawley Buffalo, AJ Farms, Couple Junker's, Lomond Luxuries, Bernadette Bee Co, B and B Farmco," Robin said.
For more information or to stay up to date with Red Onion Marketplace offerings, follow the Marketplace Facebook page.
To read all of today's stories, click here or call 642-2761 to subscribe to our electronic edition or home delivery.