Chulalongkorn University Faculty of Allied Health Sciences Researchers Treat Noodle Lovers with Udon and Vermicelli Products Made from 100 Percent High Protein, Low Fat, Gluten Free Egg White , suitable for health lovers and those who want it. to control their weight, the elderly, people with certain diseases and cancer patients. The team hopes to expand the market across Asia to meet the health and nutrition needs of the current generation.
Egg white is an excellent source of protein, rich in essential amino acids for the body, without cholesterol. It is also easy to digest. The body can use it to the fullest to build muscle and strengthen its immune system. Therefore, boiled egg whites are recommended for the elderly and people with health conditions who need high protein but low fat, such as those with hyperlipidemia, cancer, kidney disease, diabetes or those who want to control their weight.
Ass. Teacher. Dr. Sathaporn Ngam-ukos,
Department of Nutrition and Dietetics
Faculty of Paramedical Sciences, Chulalongkorn University
However, eating boiled egg whites every day and over a long period of time can be boring, and people can stop eating them altogether. Ass. Teacher. Dr. Sathaporn Ngam-ukos, co-founder of Thandee Innofood Co., Ltd. as part of the CU Innovation Hub with a research team from the Department of Nutrition and Dietetics, Faculty of Allied Health Sciences, Chulalongkorn University, came up with the idea of ​​turning egg whites into noodles, one of the favorite foods that Thais and other Asians never tire of consuming on a daily basis.
Ass. Prof. Dr. Sathaphon detailed the highlight of the company's egg white protein product line under the name "Tan: D" that "our noodles are made from 100% egg white, without flour, without gluten, without preservatives. Most importantly, the noodles don't taste like hard-boiled eggs due to the technology to coat the egg white with vegetable protein so that they can be rolled into flour-like strands such as sprinkles. , Chinese udon or vermicelli that consumers are familiar with. "
Right now, "Tann: D" Egg White Noodles are now available as ready-to-eat foods, 100 grams / packet providing 7 grams of protein at 35 calories or the equivalent of eating a half. -Apple.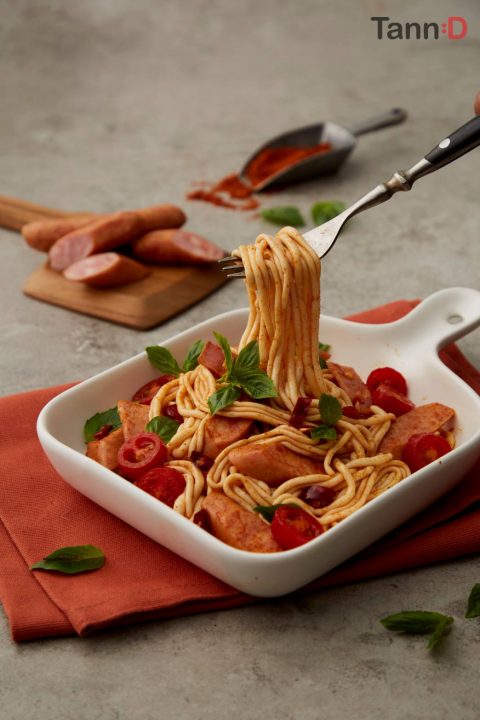 "The noodles are ready to eat without having to blanch or boil first. They can be eaten right out of the box, or used in savory or sweet dishes depending on your creativity. Some people might use them to make Lod Chong or Sarim – the Thai desserts, "Asst said. Teacher. Dr. Sathaporn while explaining the concept of health products that should be easy, convenient and delicious to meet the needs of health conscious consumers.
Besides rice vermicelli and Udon noodles, Asst. Professor Dr Sathaporn revealed that the team is working on the development of a wider variety of noodle products, as well as other forms of ready-to-eat health food such as egg white digestive drinks.
"We plan to export health products from Thailand to capitalize on growing consumer markets, such as the obese population which now represents up to one-third of the world's population, patients with kidney failure, cancer and non-communicable diseases (NCDs) such as diabetes. , obesity, high blood pressure, heart disease, etc. Ass. Professor Dr. Sathaporn concluded.
"Tann: D" Egg White Noodles are available at health food stores and can be ordered through the "tannd.th" Facebook page or [email protected]: @ Tannd.th.