Chocolate Banana Cake, the Perfect Birthday Treat | Taste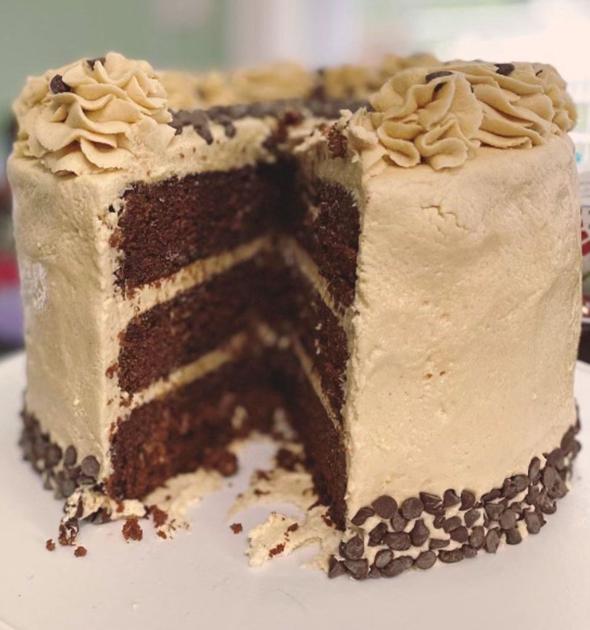 On August 18th, our twin children, Michael and Cherise, celebrated their birthdays.
Even though they are now adults, they are still waiting for some kind of cake for their birthday. When they were little, I made their own character cake for them. When they entered high school, their birthday cakes were from Dairy Queen. College years meant they shared a baked cake. This year was no different as I made a chocolate banana cake with peanut butter frosting.
I call it my Elvis Presley Cake because it was known for its peanut butter and banana sandwiches.
I based this cake on the Triple Chocolate Banana Cake found at cakebycourtney.com.
The original recipe uses chocolate frosting, chocolate chips in the cake batter, and a banana pudding filling between layers. I chose to make the cake using this recipe without any shavings added to the batter and adding my own peanut butter frosting instead of the chocolate frosting.
As with any baking adventure, the ingredients should be at room temperature, which means the items should rest 30 to 60 minutes before starting the recipe. Make sure all equipment is taken out with measured ingredients. This process is called "setting up" and is used by most professional chefs.
Start by spraying three 8-inch round cake pans with non-stick spray. Line the bottom of each pan with parchment paper and spray again. Put them aside. Preheat the oven to 325 degrees.
In a large bowl, cream the butter and sugars together for about two minutes or until light and fluffy. If you are using a stand mixer, the paddle wheel is best for creaming. Add the eggs, one at a time, stopping to scrape the sides after each addition. Stir in the mashed bananas and vanilla extract.
In a separate bowl, combine all the dry ingredients – flour, cocoa powder, salt, baking powder and baking soda. In another bowl, combine sour cream and buttermilk. Let this mixture sit for at least five minutes.
You can make your own buttermilk by adding a tablespoon of vinegar to the bottom of a one-cup liquid measuring cup. Then add milk to get a cup.
Using slow speed on the mixer, add the flour mixture alternately with the buttermilk mixture. Start and end with the flour mixture. Distribute the dough evenly between the three cake pans. I do this by adding a cup of dough to each pan at a time until all of the dough is gone. Bake for 30 to 33 minutes. The cakes should cool for 15 minutes in the tins, then inverted on a cooling rack to complete cooling.
While the cakes are cooling, prepare the peanut butter frosting. Cream the butter and peanut butter together for two minutes and combine the vanilla extract and salt. Slowly add the powdered sugar and heavy cream until you get a good spreading consistency.
Once you have that, beat on medium high speed for an additional two to three minutes. Cake cooled with frost.
You can bake and freeze the cake layers in advance. I find frozen cakes to be easier to frost and won't leave as many crumbs in the frosting. If you choose to freeze the cakes, cover them tightly with plastic wrap.
I kept the decorations on the cake simple by pressing mini chocolate chips around the bottom layer. I also swirled on top and added more mini chocolate chips to the top layer.
This cake is not only chewy from the bananas, sour cream and buttermilk, but also rich from the addition of the peanut butter frosting.
I'm sure Elvis would have loved this cake, just like you.
Cherie Mingus is a retired teacher who taught Family and Consumer Sciences at Central Hardin High School. She can be reached at [email protected]
Cherie Mingus is a retired teacher who taught Family and Consumer Sciences at Central Hardin High School. She can be reached at [email protected].