Living in Knoxville provides easy access to many authentic, local places to choose from for every meal of the day. But, when someone comes to visit the city, all of these choices can get a bit overwhelming. With breakfast, lunch, dinner, and dessert to choose from, it can be hard to narrow down your favorites to show your guests the full Knoxville dining experience.
To help with the indecision, here's a guide to an all-local dining day in Knoxville to give your visitors a little taste of the great dining options we have in Knoxville, Tennessee.
No one soon? Well, consider this a recommendation for the next time you bring a visitor to our beautiful city.
Breakfast – Jake's Scrambled Breakfast Company
When it opened in the summer of 2017, Scrambled Jake's filled a need in the Knoxville community: a local, authentic breakfast and brunch spot. Since its opening, Scrambled Jake's has been a favorite spot for students looking for a Sunday brunch, Knoxville residents looking for one of the many treats or savory items on the menu, and various visitors to the area simply looking for a good bite to eat.
Along with many traditional breakfast items such as omelets, pancakes and French toast, Scrambled Jake's also offers unique items like the "Pineapple Express" – described on the menu as "half a pineapple filled with Greek yogurt and seasonal cut fruit, topped with granola and local honey" – or the "Sin-O-Man Roll", a huge homemade cinnamon roll baked every morning.
They also serve local coffee from Honeybee Coffee Co. and also offer a selection of seasonal drinks – the spring menu features drinks such as "Jake's Proper Irish Coffee" and "Raspberry Blood Orange Bellini." This morning restaurant is open daily from 7am to 2pm for all hungry customers.
Lunch – The creperie of the French market
The French Market Crêperie is Knoxville's first and only authentic French crepe restaurant. With a cozy atmosphere and plenty of places to sit, it's a great place for a quick bite or a simple cup of coffee. The downtown location is just a five-minute drive from campus or a brisk 20-minute walk, if you're feeling up to it.
They have a great selection of savory pancakes, like their turkey, bacon and avocado with Swiss cheese or the deluxe vegetarian for those who wish to avoid any of the meat options. There is also the option of sweet pancakes for those with a sweet tooth, such as pancakes filled with lemon and sugar, strawberries and cream or Nutella. — each can be replaced with gluten-free dough.
However, The French Market offers more than their namesake. In addition to pancakes, this restaurant also offers baguette or croissant sandwiches, soups, salads and an extensive selection of coffees and teas to satisfy any lunchtime cravings you may have.
Having dinner – Anaba Japanese Cuisine
For those of you who love Japanese food, Anaba Japanese has some of the best in Knoxville. First opened in 2005, Anaba now has three different locations in East Tennessee – Northshore, Downtown and Maryville.
Their sushi menu is what they are best known for, in fact, these rolls are made by a third generation Japanese sushi expert, and the selection is quite extensive with many different sections to divide the menu.
They offer "hot sushi rolls" with one or more of the ingredients inside the roll cooked or fried, "plain sushi rolls" with only one or two ingredients tucked into the roll, "regular sushi rolls" which include some of the most recognizable scrolls. including the California Roll, Vegetable Roll and Philadelphia Roll. Finally, the sushi menu ends with "sushi rolls without rice" and their "special sushi rolls" which include creations specific to Anaba.
This authentic Japanese restaurant offers several different options for dinner in addition to sushi, including: a wide variety of hot rice bowls, hibachi with your choice of protein, and noodle dishes such as ramen, udon, and soba. So whether you're a sushi lover or not, Anaba is sure to have a dinner item you'll enjoy.
Dessert- Moonshine Mountain Cookie Co.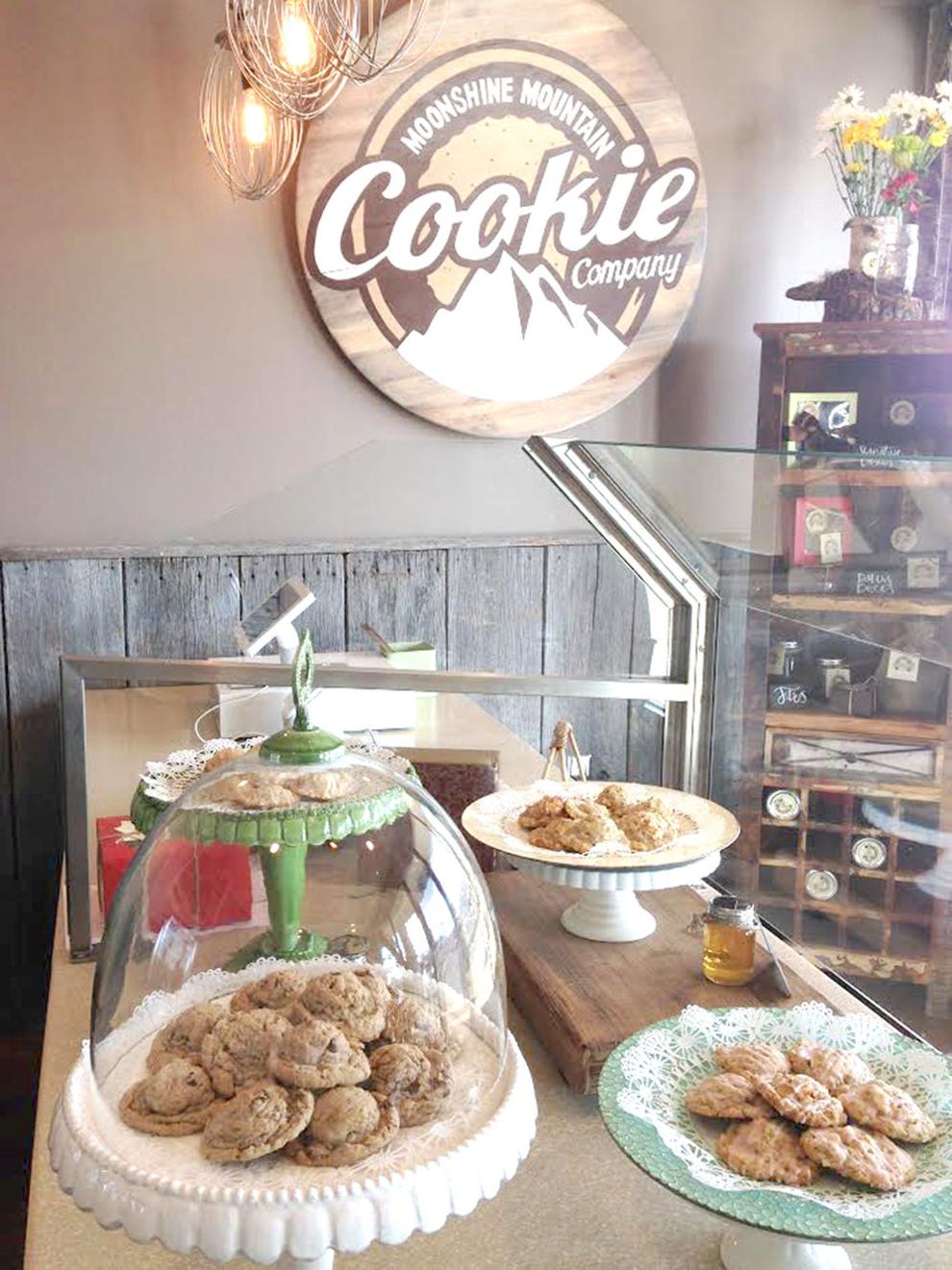 Finally, a Knoxville dining guide is never complete without dessert. Tennessee Moonshine is a big part of East Tennessee history, and Moonshine Mountain Cookie Co. plays a small role in preserving that history. The founders of this cookie company all met while attending the University of Tennessee and now have two locations in the Knoxville area – one in Farragut and another in West Hills.
The cookie flavors found here are mostly named after famous personalities with small changes to indicate the taste of the cookie.
Some of the recipes, including flavors like "Berry White", "Mint Jagger", and "Sugar Shine", have real Tennessee Moonshine mixed into the batter to add flavor.
These treats are a delicious way to end a day of eating in Knoxville, TN, and are something you won't find anywhere else.